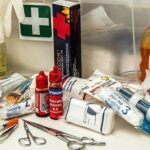 No one goes to off work expecting to have an accident.  But accidents do happen, with workers suffering injuries and financial losses they can ill afford, such as loss of earnings.  
If you have had an accident at work which was not your fault, you may be able to claim compensation for your injuries and other losses.
Matt was employed by a builder.  He was working on the roof of a house near Camborne when he lost his footing and slid down the roof.  The scaffolding, which was defective, failed to save him and he fell the full height of the building to the ground below.  The impact caused him serious injuries including a shattered hip.
 We prepared and presented Matt's claim, which was quite complex.  It included a figure for his injuries, of course, but also for other matters such as loss of earnings into the future and substantial private medical costs.  The builder's insurers admitted liability and eventually settled the claim.
(Based on a real case but with name, location and  other details changed, to ensure client confidentiality.)
You don't have to be working high on a roof to be injured.  Workers can also get hurt doing routine work which does not look that dangerous.  Often these accidents happen because adequate risk assessments have not been carried out.  Read more.
If you have been injured at work, contact us now for a no-obligation chat. 
This is what some clients have said about us after their claims were completed.