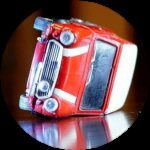 The Motor Insurers' Bureau (MIB) pays claims following accidents caused by uninsured and untraced drivers.  It is paid for by a levy on motor insurance premiums.
Claims to the MIB can be complex so we recommend that you seek advice from a specialist solicitor.
Uninsured Driver Claims
In many ways claims to the MIB under the Uninsured Drivers' Agreement are the same as insured claims, but with certain important differences.
In fact, in many uninsured driver cases it will not be the MIB paying the claim but an insurer concerned.
* Clare was driving a van from Redruth to Penryn.  A driver coming in the opposite direction lost control on a bend and rolled his car so that a collision resulted.  The driver fled the scene but was subsequently traced.   
The car itself was insured but the driver was not.  (He was not one of the named drivers on the policy and he was also disqualified.)  We brought a successful claim on behalf of Clare for her injuries and other losses.  The claim was not paid by the MIB but by the insurers of the car.   
 Untraced Driver Claims
These are less common.  Many drivers who leave the scene of an accident without giving details, for whatever reason, are later traced, as in the case above.
Claims to the MIB under the Untraced Drivers' Agreement work in a very different way to standard road accident claims so particular care has to be taken.
* Jack was driving his car from Newquay towards the A30.  As he was doing so, the driver of a second car attempted to make a dangerous turning manoeuvre in the road.  In doing his best to avoid this car, Jack collided with a third vehicle.  The driver of the second car was never traced.

 Jack suffered catastrophic injuries.  We brought a claim on his behalf to the MIB under the Untraced Drivers' Agreement and they made an appropriate award.
 (*Based on a real case but with name, location and certain other details changed, to ensure client confidentiality.)